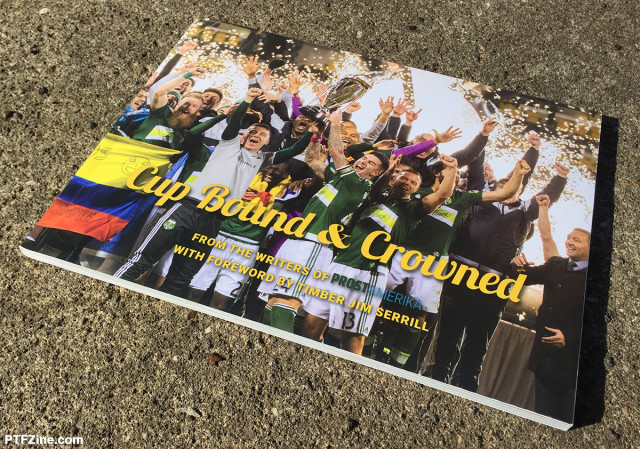 I can't imagine I'll be writing too many of these for this site, but here it is, the first review on PTFZine.  (Amended to include clarifications from Prost Amerika)
Cup Bound & Crowned
Cider Press Review, 2016
ISBN: 978-1930781-96-6
By the writers of Prost Amerika
Forward by Timber Jim Serrill
Cover Price: $29.95
Two words I didn't expect to see in this book: Cocaine and Shit.
One word I had to look up while reading this book: Lugubrious.
Cup Bound & Crowned was announced in the heady days immediately after the MLS Cup victory, while the parades and rallies were going on and some people were still pinching themselves to see if it had all been a dream. The preorder price of $19.75 in honor of the year the club started was a nice touch and probably a good way to gauge interest and get the project partially funded.1 I remember being a little jaded when I saw the announcement, thinking it was the tip of the iceberg of cheesy MLS Cup merch, but seeing the Prost Amerika and Powells Books name attached to it made me much less suspicious. And to be honest,  my fan OCD was still in overdrive. When my wife asked what I wanted for my impending birthday from the kids, it was a no brainer to ask for this. Never mind that we already celebrated in advance by flying to Columbus for the cup! The order was placed and I completely forgot about it until it arrived yesterday.
Cup Bound & Crowned is 136 glossy, perfect bound pages, not quite 8.5″ by 11″ in landscape orientation.  According to the closing chapter, the book went to press shortly after Larry Sunderland was appointed Portland Timbers youth technical director, which was formally announced on December 15th. That means they cranked this book out… really fast.2 Even if they had been preemptively working on it during during the playoffs, it's still a hell of an effort. With a rushed timeline you might expect subpar quality, but aside from a few minor glitches the quality of this book is high in both content and presentation. The CB&C starts at the preseason and continues on to the final victory. Curiously, the coverage of the actual match in Columbus seems almost an afterthought. Individual games throughout the season are described briefly, which serves as great memory window back into the ups and downs of the sometimes very uncertain season we had before The Star. There are profile pieces on Gavin Wilkinson and a few TA personalities sprinkled throughout the chronological retelling of events, and lots of photos.
My take on what to include and what were the points of interest throughout the season doesn't always jive with what Cup Bound & Crowned chose to present, but that's to be expected. It's a book mainly meant to be a momento of an amazing season, and they had to strike while the iron was hot. Balancing the simplification of events still fresh in many Timbers fans minds, there are quite a few unpublicized stories and insights revealed.  Sometimes they go into unexpected detail, as with the machinations of bringing Rodney Wallace to Portland and his salary, obviously written well before Rodney declined to continue with Portland in 2016.3 Strangely absent is a similar breakdown of why the Timbers had to say goodbye to Maxi Urruti. (If you still don't understand why, listen to this excellent podcast interview with Merritt Paulson on Soccer Made In Portland.) While there are a seemingly inordinate amount of opposing supporters reactions to the Timbers win, there doesn't appear to be any player or FO interview undertaken specifically for Cup Bound & Crowned.4 – 5 Admittedly, some that opposing fan reaction is highly thoughtful and engaging, and the lack of Timbers interviews probably has a lot to do with everyone relevant essentially being inaccessible during the very short time the book was put together.
No book can completely capture the magic of the 2015 Portland Timbers MLS Cup run.  Given the wide net cast, the finite amount of time, and the intense effort involved, Prost Amerika did a good job.  Cup Bound & Crowned deserves a spot on any Timbers fan's bookshelf, whether your camping out overnight for wristbands or showing up after kickoff for your Key Club seats. My biggest complaint is that Cup Bound & Crowned isn't tabloid sized and 3 inches thick.
Of course you want one. Get yours here.
UPDATE: 
Steve Clare at Prost Amerika was kind enough to get in touch and inform me on some of the points raised in the review. His response is included below:
---
Thanks for the review. I think you were very fair. You said something kind about seeing Prost's name attached to the project. We thank you for that.
I can answer some of the things you were unsure about in the review, in the interests of being open with your readers.
The proceeds from presales did not fund the project. We did that out of our own pockets and may still not get our money back. We will not see the receipts from the presales for quite a while. The $19.75 price was totally to honor the inaugural team, not to make upfront cash. There is also an entire chapter devoted to the Originals in the book so it wasn't just a marketing gimmick.
Oh boy, did we crank it out really fast. You are so right. But we didn't work on it pre-preemptively during the playoffs. The idea to do a book came 10 minutes after the final whistle in Columbus. Perhaps 15, It was all a bit of a blur. But yes, we did cull some of the season coverage from our reports from the time.
It's fair to agree and disagree with what should or should not have seen more emphasis. Everyone will have an opinion on that. We could have made the book even longer. In the end, we wrote twice as much as we originally intended to, so we could make room for things each writer found important. But we could not describe every goal and every moment. We'd still be writing it out now if we did.
The reason we covered Rodney Wallace in full is because it illustrated perfectly the way Gavin operates so successfully. It was relevant to the profile of the man. We never intended to do a break down of the post season comings and goings, so that's why there was no breakdown of Urruti's departure. But the Wallace episode is just such a great illustration of why some people dislike Gavin's MO but how it often works, and Brennan Burns breaks it down so well.
We did ask the FO for assistance in talking to players. They were not responsive. That's why there's none of their opinions bar the ones we garnered first hand in Columbus. Many of them were on vacation during the window of writing.
How the win affects the local rivalry was for us, as a pan-Cascadian site, a very important aspect of the historic side of this. If you're into the Cascadian rivalry, you will find that chapter fascinating. If that doesn't float your yacht, you may not!
"No book can completely capture the magic of the 2015 Portland Timbers MLS Cup run" – that is so true. We could have made it 3 inches thick, but then it wouldn't have arrived in time for your birthday. But those choices I had to make of what to leave out were very difficult.
Once again, thank you for buying the book and posting this fair review.
Best wishes,
Steve Clare
Owner, Prost Amerika