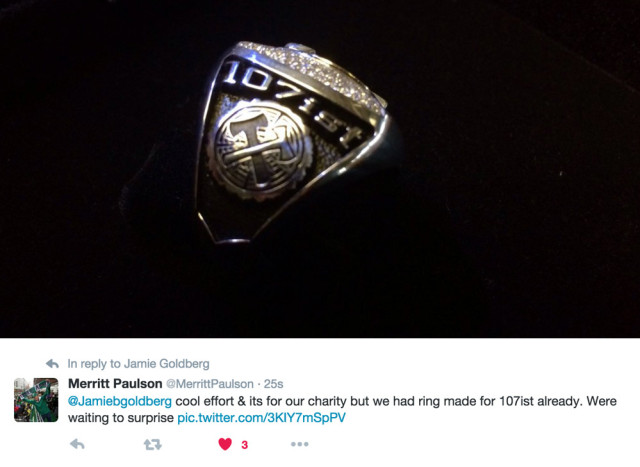 Not long after the it was announced that you could bid on a Timbers MLS Champions Ring to benefit the Timbers Stand Together charity, the 107ist launched a campaign to raise money to buy the ring and hold it in the fan's trust. It was a pretty great idea actually. You average fan wouldn't get much of a chance to see a championship ring, assuming Timber Jim eventually stops wearing his ring to home matches. The theory was that it would be available for public viewing at Fanladen at some point, on a recurring basis. It turns out Merritt Paulson had intended to give one to the 107ist as a surprise, so he had to come clean. 107ist replaces the name that would appear on a team member's ring. I think our owner definitely has a lot of class, no matter how much crass he has.
[ Source: Oregonian. ] – Deleted Tweet photo: Nutmeg News
All the money raised by the 107ist fundraiser specific to this ring has been returned. What do do with it now? The Nutmeg News has great parody piece titled "Portland Timbers To Auction Off Opportunity To Have Merritt Paulson Tell Fans To Go Fuck Themselves." in reference to a Twitter exchange after the RSL match that put us under the line for the first time this season. Come one people, we've already go one more win than we've ever had in the month of March and we've only played 3 matches. With fans complaining, it is the same as it ever was.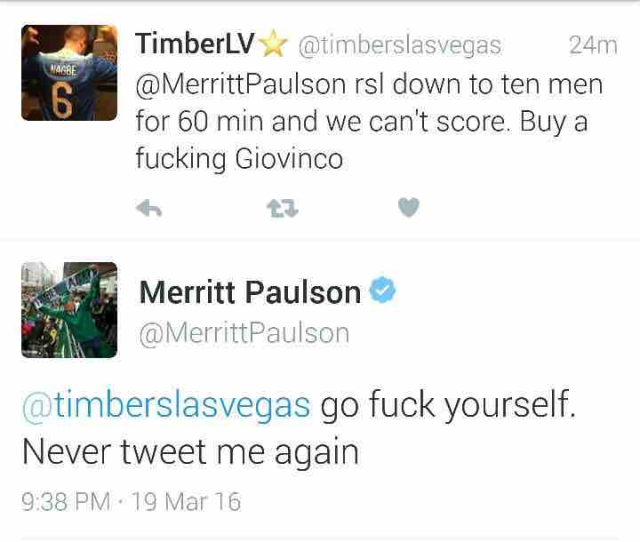 There's actually quite a few Timbers references on the site if you're in the mood for a little Timbers levity. It's too bad they aren't indexed chronologically in the search results.