I didn't grow up in a sports house. Sure, we would watch the big games and I had a workable understanding of the more popular American sports, but we didn't have any obsessions or even alliances to teams. As a kid, I didn't have even much interest in sports and that culture seemed very clique-ish to me; it felt exclusionary. It's hard to get very invested in something that is designed to keep certain people out. I don't think that's the intent of many sports cultures, but it's often the result.
I do some speaking on social media and digital culture as part of my day job and I often cite the Portland Timbers—and by extension, the Timbers Army—as examples of community engagement. My standard line is, "Soccer is their product, but community is their brand." And that's not a throw-away comment, the community built up around the team is what makes it special. But what is community without inclusion?
With all the news in the last couple weeks regarding restrictive (sorry, I mean BULLSHIT) laws governing the use of public bathrooms, I was delighted, but not surprised, to see a statement from this community I have become so enamored of. It's a simple, but powerful statement.
I'll Go With You
Karen Gjerning has been a member of the Timbers Army since 2012 and is heavily involved in community outreach activities. From the Partnership Committee, the Book club, CPR training, supporting the Heart Walk and Timber Jim's Red Sweater project, to working the 107ist table…Karen is there. Recently she saw something that struck a chord wanted to make a statement.
"I saw an article where a young girl came home from school wearing a pin that said 'I'll go with you.' When her dad asked what it meant she explained that it identified a support person for Trans people who might be afraid to use the restroom," Karen told me via Facebook Messenger.
Given the propensity for collecting and wearing scarves, patches and pins within the fan community, the opportunity seemed obvious.
"I know we have such a supportive and loving culture at the TA, that it would be great to have [the pins] in Providence Park."
Karen contacted local pin maker Nicholas Downing and ran the idea past him.
"Within two days I had over 100 pins to hand out. They were gone in a little over an hour and we have requests for many more."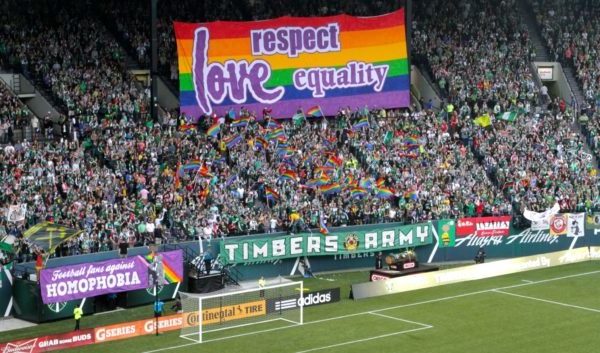 Photo Credit: Brian Gjurgevich (@gjurg on Twitter) via Timbers Army
The response, while amazing and heartening, isn't exactly surprising. The Timber Army has officially spoken on the subject with statements, including a rebuke of Georgia HB 757 and calling to task the MLS and commissioner Don Garber. The statement makes clear that inclusion is not just a position an organization takes, it's an ideal that should be at the core of its existence. A quick scan of the North End at any game will show you rainbow flags, two-sticks and other banners supporting inclusivity. It's that spirit that turns a fan base into a force.
…
It's sometimes easy to dismiss the machinations of government as "just politics." But politics is personal because policy affects people. Stephanie Lawless is a Timbers supporter and Timbers Army member living in Bend, Oregon. A sports fan who has found a special place within the Timbers Army, Stephanie says she's found a home.
"I cried out of sheer joy," Stephanie says about the moment she saw the pins online. "Considering I'm always on guard for my own safety whenever I use a public restroom and the fact that the national media has been debating the topic intensely this year, I was floored that so many people in the Timbers Army wanted to make a stand to being openly supportive and inclusive of not only myself as a transgender woman, but everyone else that is gender-variant.""
It's that increased media attention, and the response from the public, that has brought the issue of LGBT rights and frankly, safety, to the forefront. With so-called "Bathroom Bills" and other laws restricting the freedoms and protections of LGBT not only being debated, but signed into law, suddenly the political has become very, very personal.
Oregon is not one of those states, but that doesn't mean it isn't an issue here. Stephanie participates in the Timbers Army subregional Mt. Bachelor Brigade and comes to about 5-6 matches a year.  
"The first two years of transitioning I didn't feel safe going to any sporting event," Stephanie said.  "When I found out that the Timbers Army waved rainbow flags it instantly let me know that I might actually be OK if I was part of that."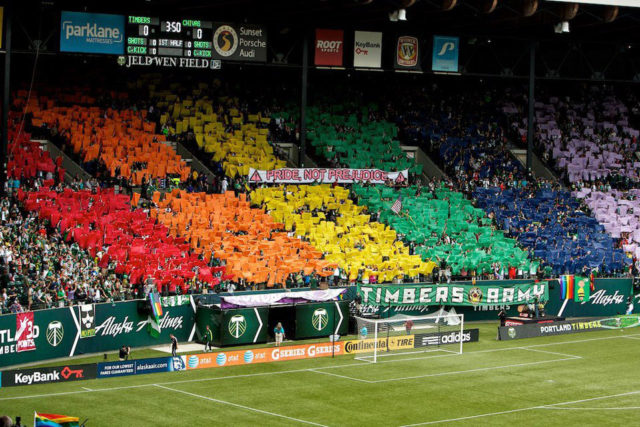 It's that proactive, very public display of inclusivity that sets the culture apart. Lots of pro sports teams and leagues make at least an effort to talk about inclusivity, but actions speak louder than words. And large, public actions speak loudest of all.
"Since 2013, [soccer] has easily been my favorite solely thanks to the supporters culture that has been ingrained," Stephanie says about her decision to focus her love of sports onto one team in particular. "It's just easier for me to focus my energy on the Timbers as the likelihood of being judged by other supporters is near nil compared to other sports."
And while that openness and welcoming spirit is ingrained in the Timbers Army, it doesn't mean there isn't still a lot of work to do. The irony being that openness can also attract those who may not support those ideals of inclusivity. It's something Stephanie has encountered within Providence Park…and even in the Army section.
"An incident happened at the Dallas match on April 13th. It was on a Wednesday night, which I've been told the more touristy types fill the TA section, and some don't follow the TA ethos of not standing for sexism, homophobia, or transphobia."
When Stephanie mentioned this incident, I had to admit to her I was shocked because it's so counter to every experience I've had in the TA.
"This guy threw a water bottle at my feet and asked if I could get it for him. When I did, he said 'thank you sir.' It was a purposeful attack at me verbally by misgendering me." Stephanie went on, "He and his buddies we're yelling 'Faggot and puto' to the opposition as well. It was out of place and out of line but I felt defenseless to do anything about it."
To hear this and think that nobody shut these clowns up is really shocking to me. This kind of behavior is not only in conflict with the Timbers Army ethos, but it violates Providence Park's own code of conduct. My hope is that with increased awareness (like these buttons) we'll all do a better job of maintaining a safe and open atmosphere for fans. It's our supporters' group, so it's our responsibility.
I asked Stephanie whether she's take anyone up on the message to "go with you?"
"It depends on who I'm with at the time," she said. "I'm resilient enough that I can go by myself but if a close friend is with me, I'm not going to say no to the offer."
Even if she doesn't take anyone up on the offer, I hope she also knows there's an Army behind her.