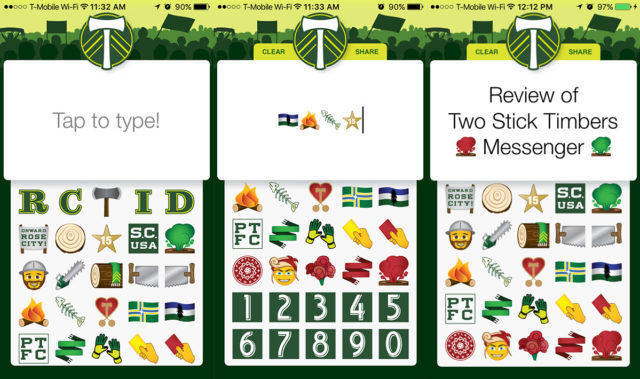 There's a new Timbers branded emoji generating app called Two-Stick: Timbers Messenger. It's lets you send Timbers-themed emojis as attachments in messages and sharing on Facebook, etc… Yes, I am going to expend the time and effort to review this.
The Portland Timbers are excited to launch the first official MLS team-branded emoji pack. The FREE app, "Two-Stick: Timbers Messenger", celebrates the iconic imagery of the club and is available in both the Apple and Google Play App Stores. The emoji pack features 40 custom icons, including Timber Joey's chainsaw, the axe, a "flounder" skeleton and a number of Portland Thorns FC specific images.
It's a free app available for iPhone and Android users, so that's good. Once you launch the app you choose from the icons available (see full set below) and enter them with text if you prefer. Once you choose to share your message, the app creates an image which you can attach in a message or share on Facebook, Twitter, or whatever else your phone has access too. You can't type the emojis natively in your texting app, so it does take a little extra time. According to the release: "Emoji packs built into your phone's keyboard require the user to give the app access to your text messages/information. We don't want to infringe on your privacy." That sounds like spin to me. I'm not an iPhone app developer, but I'm pretty sure the app wouldn't have to exploit your personal information to do what you would expect it to. It's more likely that this was just the easiest/quickest/cheapest way to build the app. At the time, this does not appear to be an MLS wide offering. The developer (listed as Two Stick) does not have any other apps available in the iTunes store. Formatting of the emojis is automatically centered.
Here's the list of available symbols, which you'll notice includes some Thorns imagery and some Cascadia-specific images, as well as what I thought was a TA invention (Big heart, brass balls?) but maybe I'm wrong.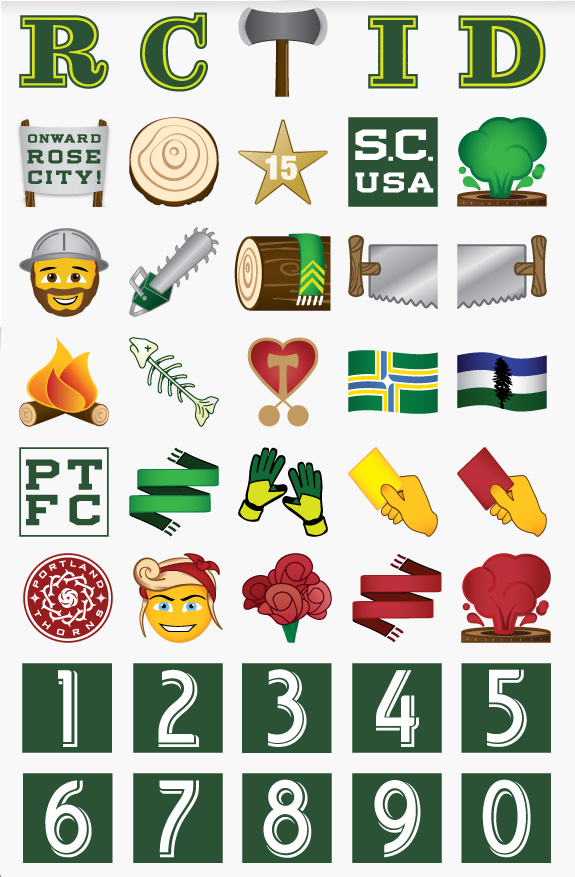 Below Left: Timbers Messenger app icon. Below Right: Share screen.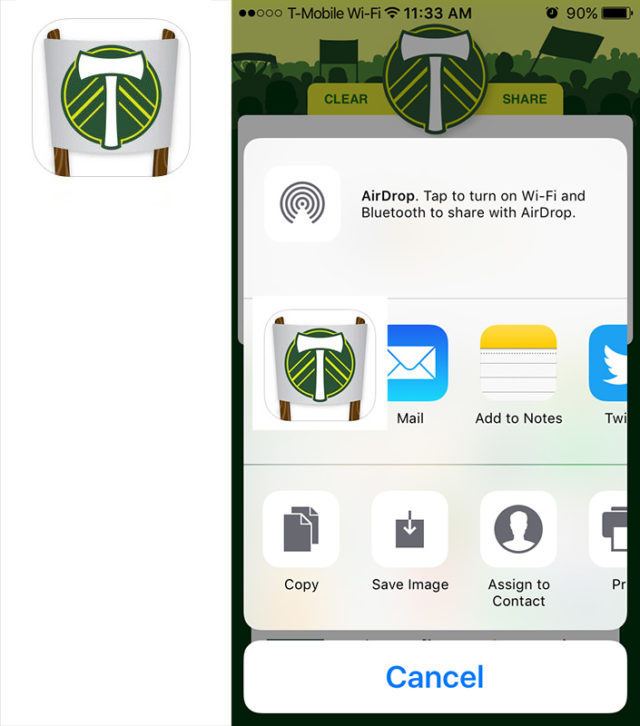 Two-Stick: Timbers Messenger is a fun, throwaway app. That extra step required to send as a text message means it's probably not going to be used in the heat of the moment. It could very well end up forgotten once the initial excitement wears off. However, it could have a longer lifespan if the icon set is expanded over time or if true integration into the keyboard comes. Match specific icons? Crowdsourced graphics? It could be interesting. In the meantime, it's free, so you've got nothing to lose.