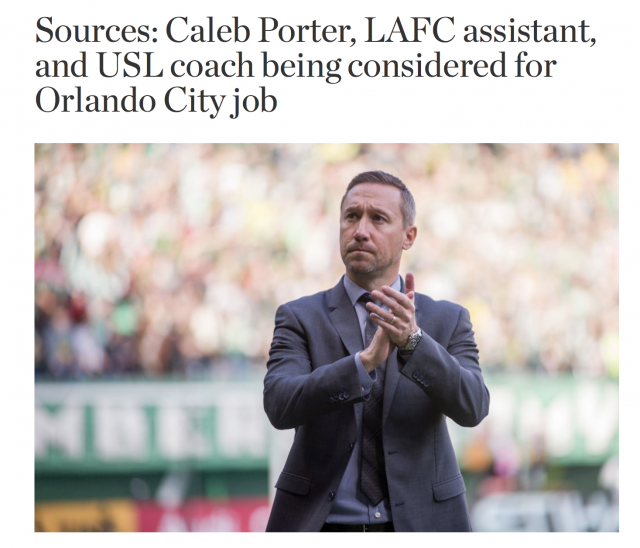 I didn't even get to properly address the bombshell of Caleb Porter resigning because it happened while the site was down for months. There has been speculation on whether he was asked to resign after our disastrous performance in the playoffs vs. Houston last year. Coincidentally, I finally got around to watching that game on the DVR for the first time. I make a habit of watching the broadcast of games that I attend. It's an entirely different perspective. For one, a lot of the calls that we fervently boo when they don't go our way, well sometimes they seem to be correct. That last match in Portland played out pretty much how I remembered. It was a bitter disappointment, but we bossed Houston around for the most part, and they got lucky on that last goal.
Asprilla was still bleeding from a head injury a few minutes before and was about to be called off when Vytas went down and had to be subbed off instead.  We were out of shape for a minute and it cost us. That's the same game where we lost Mattocks to a concussion about 10 minutes in. Blanco subbed in around 55 minutes because he spent the first half having his foot pumped full of meds to numb the pain of the 3rd degree burn from spilling boiling water on his foot. The team never gave up. Ebobisse and Asprilla were dangerous all over the field, but ultimately only Asprilla was able to score. (Best qoute from the broadcast happened at 86:33: "Asprilla with that busted up nose, trying to chase it.")  Towards the end of the match, with Houston flailing, flopping and fouling, that familiar desperation set in, something we grew accustomed to in 2016. With all our unexpected injuries over the two game series, we were set up to fail, but we still could have, and probably should have won. The loss was hard to take, but the team could hold their heads high.
Porter's resignation was out of the blue and totally unexpected. He had recently just signed a contract extension after we won the Cup in 2015. The end of 2016 was an embarrassing mess, but 2017 we finished top of the conference, and won the Cascadia Cup, granted that's just a vanity trophy, but still. I've heard (unsubstantiated) rumbles that a lot of the players didn't have good relationships with Porter, and to outsiders it did at times seem like he wasn't able to motivate his team. Did he resign or was he asked to resign? We'll never know. If it was his idea, you'd have to imagine there would be some sort of non-compete clause that would prevent him from accepting a coaching position in MLS, so if Porter does end up being the new coach for Orlando, as the possibility is being reported, does that shed any light on what happened?