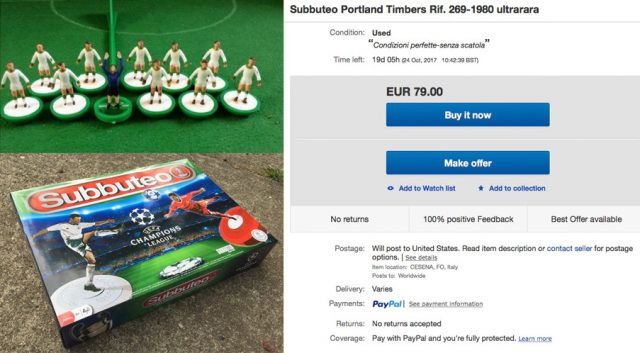 My curiosity about Subbuteo finally reached tipping point after seeing Subbuteo article on MLSsoccer.com. Not being from the U.K., I didn't grow up with it as a kid. In fact the first time I ever became aware of it was as a teenager, listening to My Perfect Cousin, by the Undertones.
Even at the age of ten
Smart boy Kevin was a smart boy then
He always beat me at Subbuteo
'cause he flicked the kick
And I didn't know
Seeing the custom painted Sporting Kansas City Subbuteo teams on the MLS web made me pul the trigger. SKC is my lest favorite team outside of the Sounders, but those figures looked sharp. I figured it would be easy to find in the U.S., being owned by Hasbro these days, but it isn't distributed here. I tried local game shops, but had to go to Amazon to find it. In my search I went to Ebay as well, seeing all the different teams available got me thinking. On a whim, I entered "Portland Timbers Subbuteo" and it actually returned a result, but first, lets' get to the Subbuteo review.
Multiple updates made since the original post!