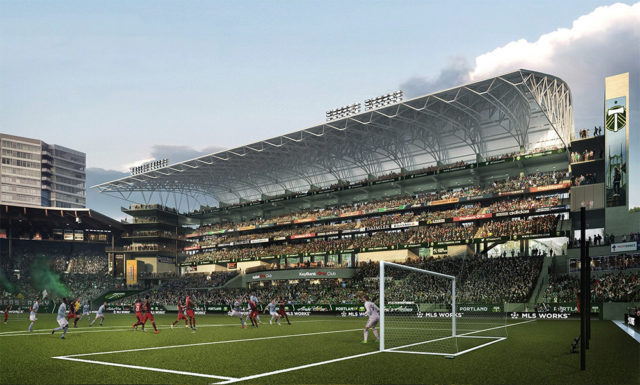 Today the Portland Timbers released renders of the proposed new stadium expansion that would add 4,000 seats to our current capacity. It's safe to say the entire fanbase is excited about adding more seats, but reactions to the renders are somewhat mixed. Personally, I don't think it fits very well with the style of the existing stadium. I had a feeling this was going to be difficult to achieve, and I'm sure many people felt like the current Key Club section didn't fit in very well when it was new. To it's credit though, the roof style did have a connection to old park. This new one, not so much. In the release they compare the new stadium addition to the "iconic" La Bombonera stadium in Buenos Aires, that quite frankly looks garish and tacky in the picture they chose. More like a stacked strip mall than anything I'd want to brag about. I showed the interior shot to my 9 year old thinking he'd be excited, and his first reaction was "It's ugly." Hey, it could be a lot worse. It could be Soldier Field.
However…. it's already grown on me since the first time I looked at it earlier in the day. I'm excited about it, top-heavy or not. The biggest surprise is that this huge addition only adds 4,000 seats because it looks like so much more. The best news is that the whole thing is going to be privately funded! An extra 4,000 seats and the new $10 a beer price tag ought to help out some. Projections say the work can take place  during the off-seasons with a completion date as early as 2019. Let's hope the NIMBY's can be kept in check. I imagine the neighborhood will want to talk about parking.
The sooner we get started, the sooner we can work on that South end too! Merritt, on the off chance you're reading this, don't forget to add hooks for tifo rigging, and thanks for picking up the tab in Columbus!