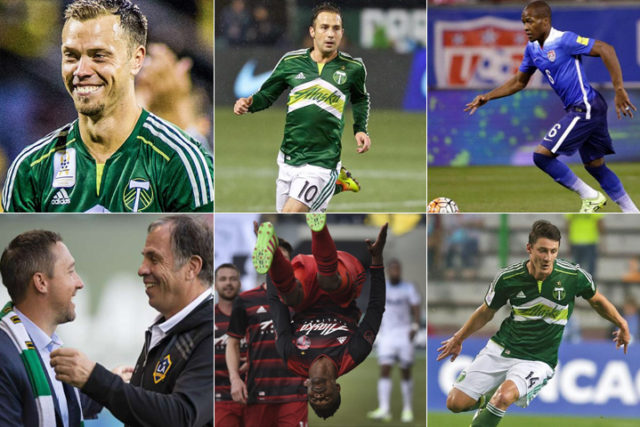 After the dumpster fire that was the last week of our 2016 season, we knew changes were coming. There were a couple announcements that were a little bit of a surprise and, and welcome at the same time. First, Jack Jewsbury is retired from the pitch, but sticking around the Timbers organization as Director of Business Development. Many had speculated that he might return to the Kansas City area, so supporters were happy to learn that Captain jack is sticking around.
[Photos: (Clockwise top left) Gabriel De Los Rios, Craig Mitchelldyer, ESPN, Troy Wayrynen, Craig Mitchelldyer AP Photo/Steve Dykes]
Then there was the announcement that Ned Grabavoy would be sticking around as Director of Scouting and Recruitment after retiring. He's not a Zip, so it's sometimes hard to remember he played for Porter when he was an assistant at Indiana University.
Speaking of Caleb Porter, he was named as a possible replacement for Bruce Arena, now that Klinsman has been fired as coach of the USMNT. The Goal.com speculation about Porter seems more like filling the word count on the article than anything based on reality. It's not that Porter doesn't deserve to be considered for the post, but more that a comment stating he has the "personality to thrive in LA" clearly reveals the author has never witnessed Porter in a press conference. By far the bust rebuttal came from Merritt Paulson himself when he declared "I am surprised by the question as there is no coaching job in MLS bigger than the Timbers." You tell'em!
Speaking of Klinsman… (Yeah I'm going to overuse that.) Now that he is out, many are hoping that Nagbe will return to the USMNT and actually see some playing time. It's not just folks in Portland, but others, including lovable blowhard Alexi Lalas. Then there was the surprise Instagram post of Darlington Nagbe attending a Celtics match with his agent, checking out possible greener pastures. Say it ain't so!
What about the other guys? You may have forgotten about Dairon Asprilla, but apparently he hasn't forgotten about us. It seems he may want to come back. Now that is surprising to me considering he reportedly had problems adjusting to life in the USA and was already on loan back in his home country of Colombia. I like Dairon a lot, and I don't know what the problem was between him and Porter, but I'd like to see him back assuming he can keep it together.
Ben Zemanski? He's my favorite spas on the field now that Urruti is gone, and unfortunately, staying gone. Internet coaches think he won't be coming back, but he made an official Timbers appearance with Diego Valeri who ws taking time off from his grueling futsal rec-league schedule to sign autographs at the mall a couple weeks ago. I doubt the organization would put him through that if they weren't going to keep him around.