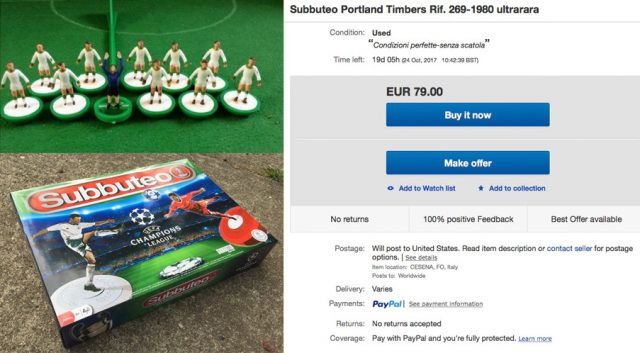 My curiosity about Subbuteo finally reached tipping point after seeing Subbuteo article on MLSsoccer.com. Not being from the U.K., I didn't grow up with it as a kid. In fact the first time I ever became aware of it was as a teenager, listening to My Perfect Cousin, by the Undertones.
Even at the age of ten
Smart boy Kevin was a smart boy then
He always beat me at Subbuteo
'cause he flicked the kick
And I didn't know
Seeing the custom painted Sporting Kansas City Subbuteo teams on the MLS web made me pul the trigger. SKC is my lest favorite team outside of the Sounders, but those figures looked sharp. I figured it would be easy to find in the U.S., being owned by Hasbro these days, but it isn't distributed here. I tried local game shops, but had to go to Amazon to find it. In my search I went to Ebay as well, seeing all the different teams available got me thinking. On a whim, I entered "Portland Timbers Subbuteo" and it actually returned a result, but first, lets' get to the Subbuteo review.
Multiple updates made since the original post!
Subbuteo – UEFA Champions League Edition.
I had a hard time figuring out which set to buy, and the official Subbuteo web site was no help whatsoever. The product shots only show the box, and many of them appear to be computer renders and not the actual products. There are no pictures of what they come with, so I wasn't even sure of what I was ordering. For some reason, the UEFA Champions League edition of the game was being sold for $47 vs $76 for the generic team set. This is actually about the same price these game sets sell for in Europe, but Amazon has some you can get with free shipping in the US, much better than spending another $30 to get it here.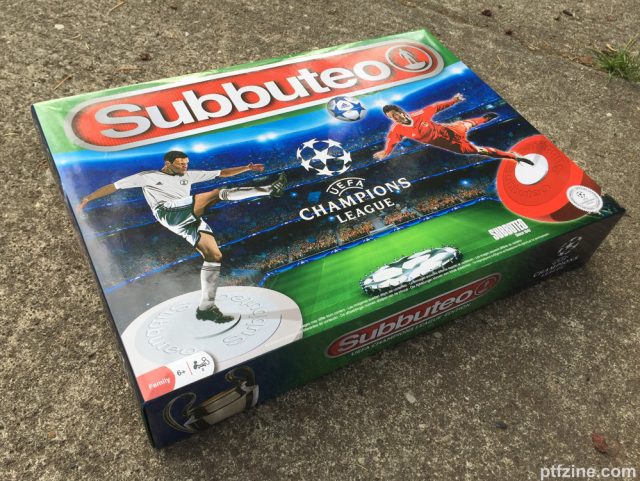 What do you get for $47? Not a whole damned lot actually. The figures are tiny, the pitch is a crappy lightweight cotton cloth that won't lay flat, and the goals are chintzy. Even at $20, this would be over priced. I'm floored that they actually manage to sell these. If I had been able to see the actual contents of this set before buying it, I definitely would have passed.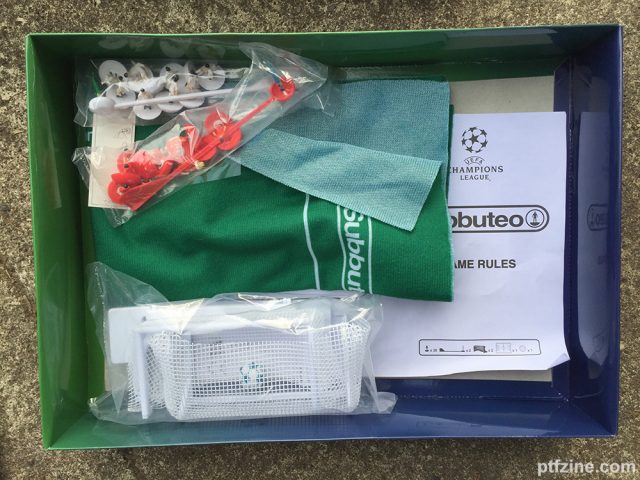 During my internet… ah, research, I looked a lot of hand painted teams and figures, and eventually unpainted figures and bases because of course I'm going to want to hand paint a Timbers team. the real shocker was opening the box and seeing the size of the players. There are about half the size I thought they would be.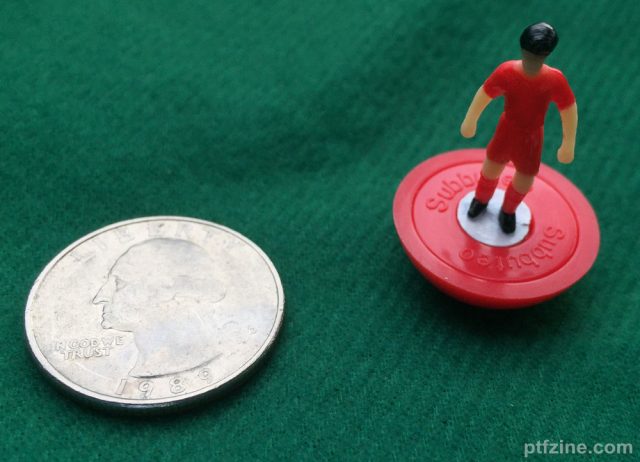 Instructions? Well, you get one page with a diagram, a handful of short paragraphs, and a lot of unanswered questions. The rules are more or less like soccer. You flick the players at the ball, which mimics the act of  kicking the ball. The attacking team gets to keep kicking until it goes out of bounds, the attacker misses the ball, or the ball touches a defensive player. The defending team gets to flick a player after the attacker flicks, to keep pace, but the attacker doesn't have to wait. There aren't really conventional turns, although wile learning it makes sense for attacking players to wait until the defender has had a move. Offsides is still a rule in Subbuteo. There are fouls, free kicks and PK's as defined by breaking the rules of the game. How do you handle all these situations? There's a paragraph on the piece of paper that explains, but doesn't give all the details. What happens to the players? How do keep your figures from being stranded in these situations, and where do you place them? There's no help in the rule sheet. You'll have to go online and watch some Youtube videos to learn that. Also, you can't score a goal unless you are in front of your shooting line. Hey, what is the shooting line? That seems like something you might want to point out in the instructions, but again you have to look it up on the internet or guess that it is the line halfway between the center line and the goal.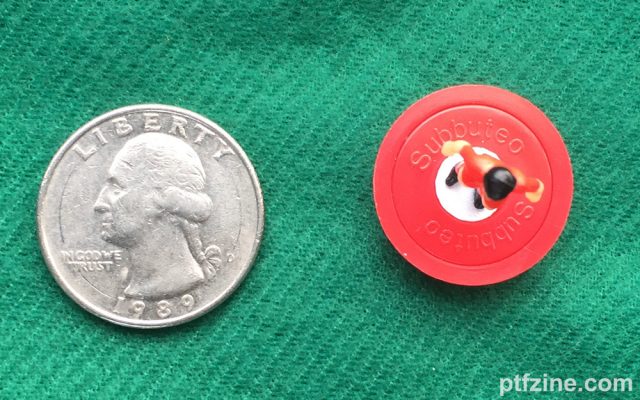 It feels like the figures should be heavier, because they tip over too easy. The Subbuteo internet shops all mention something called heavyweight figures that have a washer or weight in them. They are so tiny, they still couldn't weigh much, but a little weight would really help. Almost $50 for a couple ounces of plastic and a cheap piece of cloth is a massive ripoff, but is it fun?
After 5-10 minutes of floundering, I texted an English friend to see if he remembered how to play, and all he could offer was "There's a lot of flicking. You need to google that shit." Turns out he was right. I found a few helpful videos from Table Soccer USA where they explained some rules and techniques. Then I watched a little tournament play to see how they played a live game. As absurd as that sounds, it really helped. There are a couple of Subbuteo web sites for U.S. fans with tournament info and products for sale, but they all seem to have stopped updating around 2014. Table Soccer USA had a web site, but the content present is completely unrelated to Subbuteo these days. Fortunately, the videos live on in YouTube.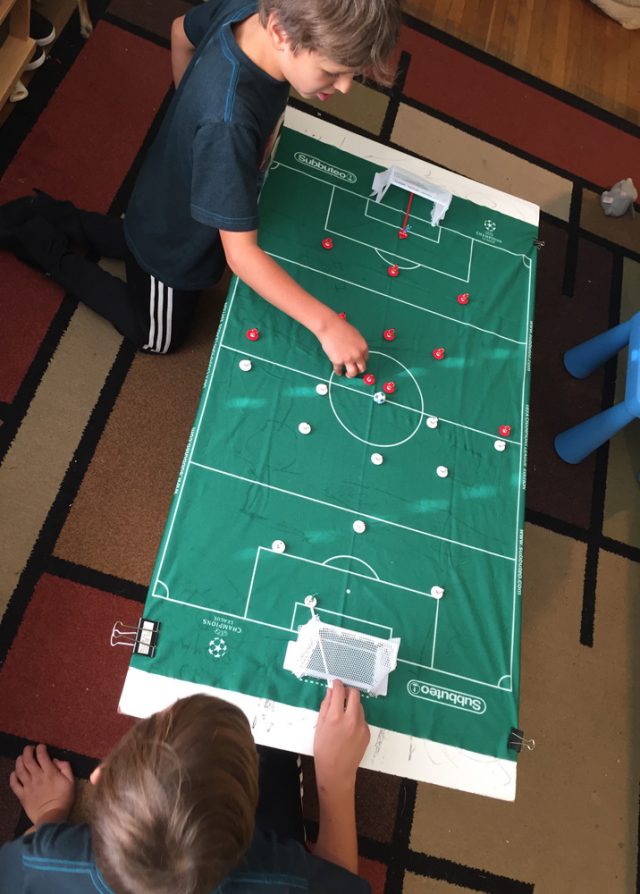 My kids really got into it, and so did their dad. We clipped the cotton pitch to thin board and put it on some side tables. We tried playing with the mat on the floor but it was more frustrating than fun. Getting it stretched out and somewhat stationary really made a difference in game play. It seems like most people mount theirs permanently to a board. Actually, what they really do is buy absurdly expensive aftermarket pitches for $100-$150 and mount those. That's nuts! I've already overspent on this, so I'm going to see how well the crap pitch will adhere to a piece of MDF. UPDATE: I made a table top. See addendum.
What's the verdict on modern Subbuteo from Hasbro? It's highly overpriced crap, but it's addictive fun. For the price you pay for the game, the figures should be weighted, and the pitch should be something you can actually play on. Would it kill them to include an extra ball in case you lose one? It's as if Hasbro decided to cash in on the nostalgia and make a quick buck instead of doing it right. Ah well, that's what the aftermarket is for.
Exhibit A: On the right is a similarly priced remake of 70's Subbuteo sets from Italy called Top Spin that looks to be a much better product.  The only thing Hasbro does better is include a painted ball.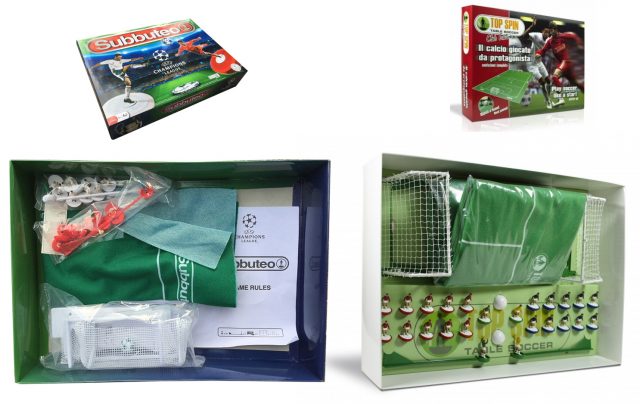 Getting back to why I finally bought the game, those handpainted SKC teams in the MLS article were really well done. There are lots of Barcelonas, Liverpools, Manchesters, and various national team sets available, so of course I googled "Portland Timbers Subbuteo" and was surprised to find a match. Just one match, but it was a match! A guy in Italy selling a NASL era Subbuteo team?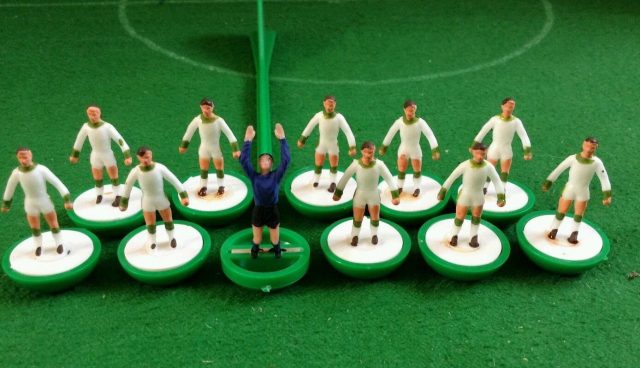 Subbuteo zombie – Portland Timbers Rif.269
I Portland Timbers sono un club calcistico statunitense di Portland (Oregon). Nato nel 1975 e sciolto nel 1982, il club partecipò in tale periodo alla North American Soccer League, la prima grande Lega calcio nordamericana di Prima Divisione; nel biennio 1989/90 un club che cambiò il proprio nome in Portland Timbers prese parte all'American Professional Soccer League prima di sciogliersi anch'esso. Rifondato nel 2001, partecipa attualmente nella Major League Soccer. Direttamente dalla mia collezione.
Translated:
Subbuteo zombie – Portland Timbers Ref.269
The Portland Timbers are a US football club in Portland (Oregon). Born in 1975 and dissolved in 1982, the club attended the North American Soccer League, the first major North American Football League in the First Division; In the 1989/90 two-year period, a club that changed its name to Portland Timbers took part in the American Professional Soccer League before melting away. Refused in 2001, he is currently playing in the Major League Soccer. Directly from my collection.
The Zombie refers to the nickname for the late 70's era of Subbuteo figures that were produced in a (then) new mold and were designed to be painted/printed by machines. A stark contrast to the previously hand painted versions, the modeling and painting left a lot to be desired, and they earned the zombie monicker as a result.
So this guy has an alleged Timbers NASL era Subbuteo team. The time period for zombies is correct, but my guess is these were hand painted   and not one of the official team sets you could buy at the time. It's actually really hard to pin this stuff down if you didn't grow up with it as a kid. There are a few companies out there (very small operations) that sell reproduction boxes of hand painted NOS figures for red teams that were never released at the time. As of this writing, EUR 79.00 is
$92.88! It's not unusual to see team sets for the amount, but they usually come with an original box. You an also find a lot 70's and 80's era licensed team sets for around £14 or $18.
UPDATE:
Not 30 seconds after hitting the "Publish" button on this post, I did another "Portland Timbers Subbuteo" search and suddenly, there are multiple results!
First off, I stand corrected on the Italian auction. It appears there was an official Portland Timbers Subbuteo release, team #269 according to this auction.  I tired to find a comprehensive list of teams and their reference #'s. Little Plastic Men has a list, but at this point it stops at 220. Looks like a work in progress as teams 200-220 are not actually linked yet.
Italy must have had some Timbers supporters, this EUR 119.90 buy it now is also Italian. The box seems to rate an extra EUR 40.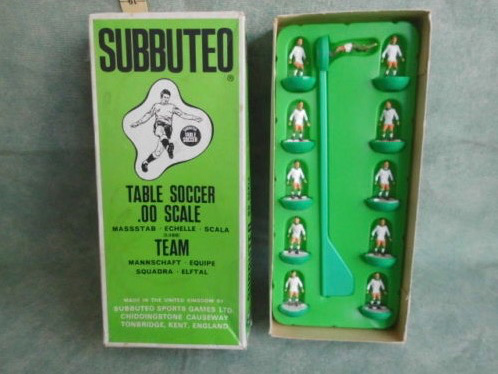 So not only are there OG releases of the NASL Portland Timbers, there are replica sets too.  Considering this replica set (below) at about $20 delivered, is comparable to single team prices for such laughable choices as an Arsenal, or a Barcelona… (I jest) of course, I bought them. This is HW replica, so I'm looking forward to trying that. If you see HW or LW in a Subbuteo team description, it refers to lightweight and heavyweight.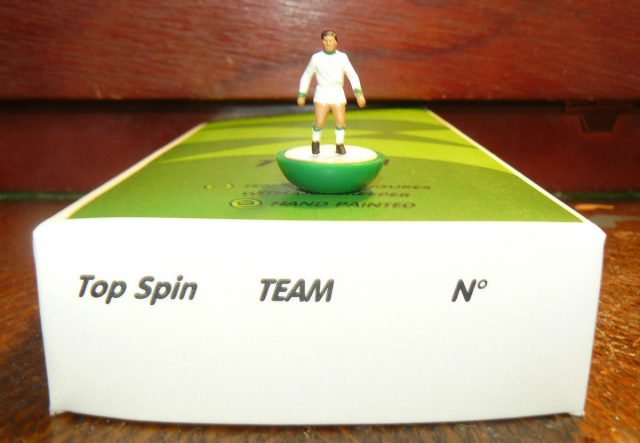 We now know someone in the U.K. watches MLS. I found a guy selling hand painted versions of the 2015-2016 kit on NOS Top Spin figures. It's that I may have purchased this as well… I'm not saying.  If you want one too, the seller appears to have multiple sets available. It ships from the U.K., but strangely, part of the description is in Italian.  Want to hear something funny? This guy has a lot of MLS teams. You can buy the Whitecaps, as well as pretty much everyone else circa 2015, except the Sounders. I'm not sure if my next purchase will Columbus Crew (for MLS Cup rematches) or the Vancouver  Whitecaps for some Cascadia Cup Subbuteo action.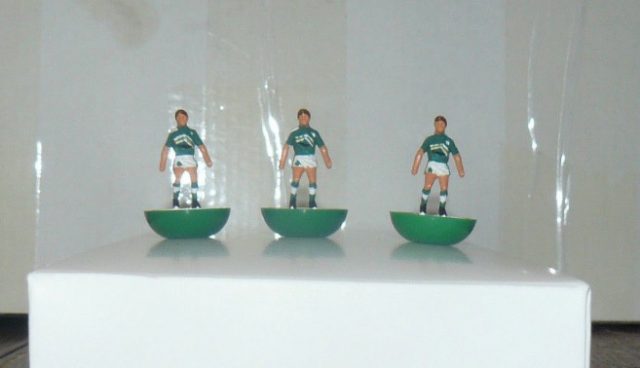 Lastly, there's an archived, tiny image that comes up in Google image search, but the listing is gone from the archive page. It's the 2017 home kit! This is the largest image size available. If I find another one, I'll update the post.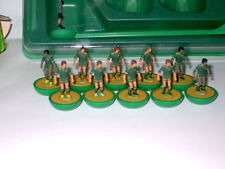 And now for your listening enjoyment, The Undertones. Here's the original 45 sleeve from the My Perfect Cousin single.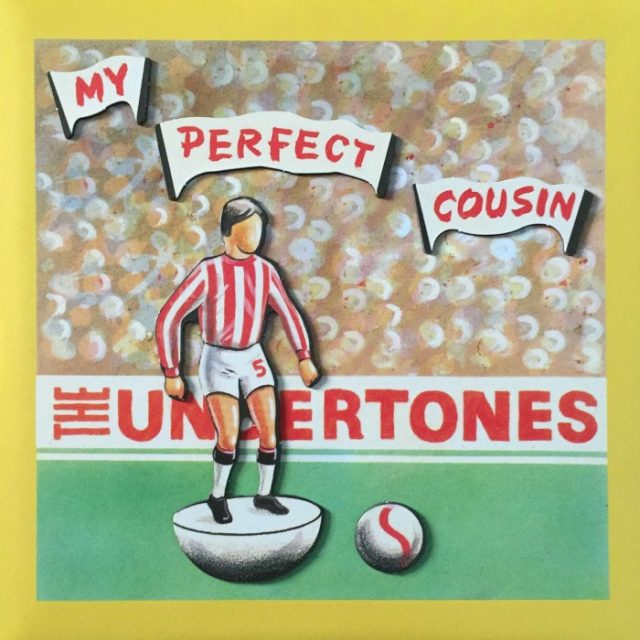 Want some more excellent pop/punk with your Subbuteo? Check out "Number 10" by Giuda. The video and the sound are retro, but these guys a Current band. We should play this at Providence Park.
Addendum:
I bought a 4 x 8 sheet of 1/2 MDF for $20. It has enough wood to make 3 table tops! Maybe I'll start a league… The fences were made from some wood and screws I already had in the garage. The whole thing took about an hour to build, including sanding time. I used some textile adhesive spray I had from screen printing to adhere the pitch to the table, but I imagine you could use and spray adhesive. I played the pitch as close as possible to the final position and then rolled about a foot of one goal side on top of itself, and sprayed underneath it. Then I folded it back over and smoothed it out. Then I folded the entire unattached section over and continued to spray about 12 inches at time, folding back and smoothing out each time. I was a little apprehensive about the affixing the pitch to the top, but it went smoothly even though the cotton is stretchy. I recommend masking off your side fences and any area not covered by the pitch to keep the rest of the wood from getting sticky.
Having the pitch affixed to a board with fences makes an immediate, very noticeable improvement on game play. It allows you to focus on your technique instead of fussing with the pitch and picking up the ball every time it rolls off. Right now it's resting on plastic sawhorses, but I plan on designing a collapsible leg system so it can be self contained.