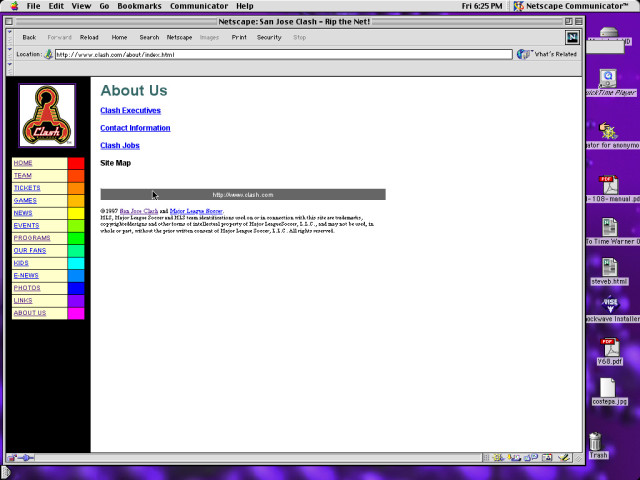 I'm pretty sure we can take these guys, even on the road. Their one goal victory over Colorado at home is not exactly intimidating. Not much left to say except I hope you enjoy this screen capture I made of the San Jose Clash website back in 1997. You see, I was interested in buying a San Jose Clash jersey solely because I loved (the band) the Clash. Yes, I am aware that the San Jose Clash are in fact the Houston Dynamos, but this is what I've got to work with. At the time I had ZERO interest in soccer. The jerseys were pretty hideous and expensive, so I did not make a purchase.  Check out the Netscape Navigator and Mac OS 8 eye candy! I was probably running a Power Computing Mac clone when I made this screen cap. I unintentionally held onto it for 19 years as it was transferred from new computer to new computer over and over again. I do recall the reason I kept it was because I though the "Clash Jobs" and "Clash Executives" link were funny.  I found it again recently while trying to purge some old files from my current hard drive.
The San Jose Clash 1997 vs the Clash 1977.
Here's your plate of shrimp coincidence. I was just scoping out the Earthquakes web site to get their take on the match and the first paragraph actually has the phrase "the clash" in it.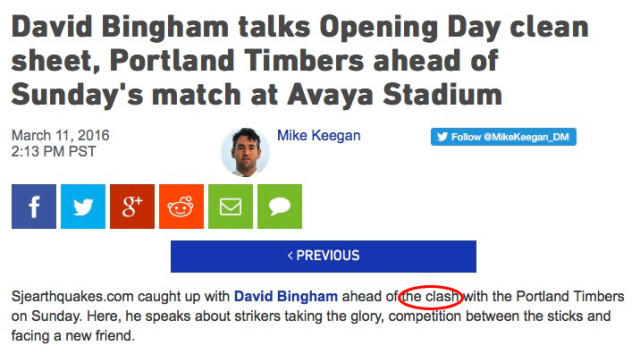 Career Opportunities from the Combat Rock tour, circa 1982. ironically being sung to a full stadium.
A much more vital 1977 studio recording.