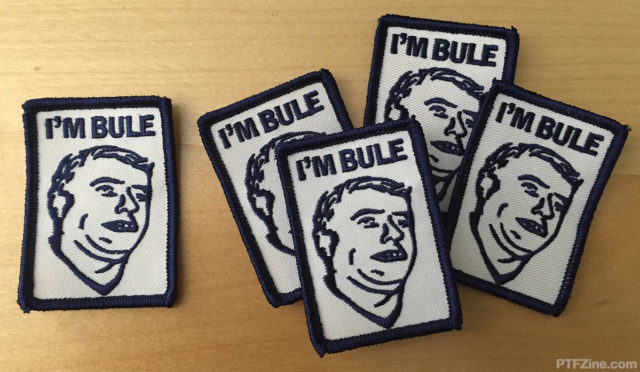 You can be forgiven if you don't know what this has to do with the Timbers. If you're wondering, read on.
If you think ECS has only recently had a problem with Seattle tifo, you're not aware of this gem, circa 2011.  This image is floating around various Facebook and soccer sites, but the watermark says GoSounders.com. Whatever it was back in 2011, it's just a twitter stream now.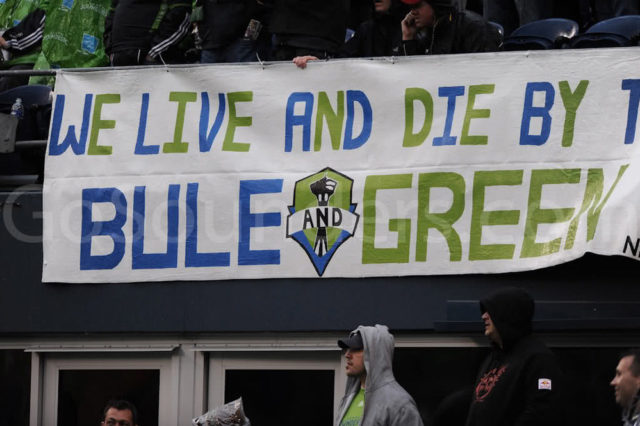 This used to be the most embarrassing tifo put up by the ECS until earlier this year when they unveiled one that more than a few people thought looked like a penis.
I got off track here… Let's get back to Bule.
Welp, this season as it stands now. (Sorry, couldn't resist. And who knows how much longer I'd be able to use this!) pic.twitter.com/GZ3csXmhyT

— Mike Russell (@mikerussellfoto) July 25, 2016
In spite of Sigi Schmid's amazing track record, Seattle fans and brass needed a scapegoat, especially in wake of the Timber's recent success.  Heavy speculation? Wishful thinking by Timbers supporters?
But the start of the Sounders' dramatic descent can be traced back to a single day: June 16, 2015 – the date of the Sounders' fourth round US Open Cup matchup against the Portland Timbers at Starfire Sports Complex in Tukwila, Washington.
Read  The game that sparked the fall of Seattle Sounders and Sigi Schmid.
Everyone in the Timbers Army already felt that way. The Red Card Wedding (7-11, Never Forget)  is legendary in Timbers match lore, right up there with wining the MLS Cup.  By the nature of our rivalry, not much is off limits. Seeing this 2-stick by Ross Bennet around the park on Seattle home and away matches was always fun. How often does an internet meme come to real life? In need of a pie? Well, that's a reference to Sigi's obvious girth, common trash talking point between Sounders and Timbers supporters, our retort to "Caleb Porter has resting asshole face."  Insert something about Sigi needing more pies…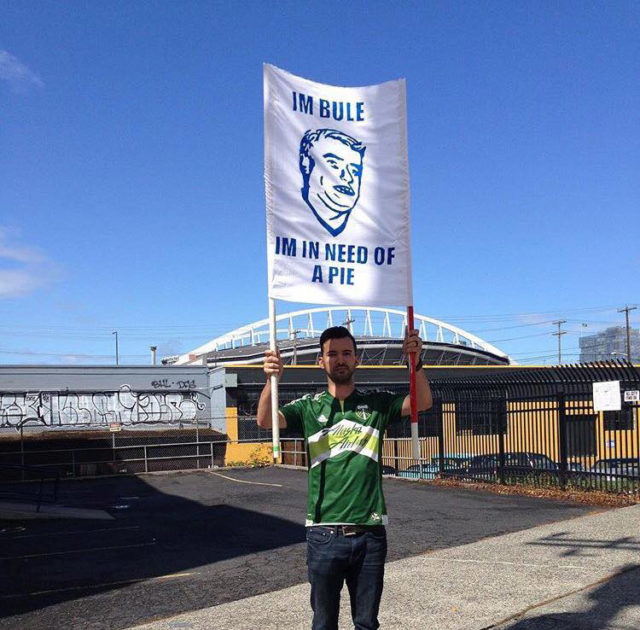 When Sigi finally got the boot, he was lamented by many, even some of us in the Timbers Army. We wouldn't have him to kick around anymore, and he seemed to be driving the Sounders into the ground. What's not to like?   To me, this mashup of two inside jokes at Seattle's expense was sublime.  I was genuinely sad to think about it being lost in the infinite scroll of Facebook for all times. I tracked down the guy who made the 2 stick and asked his permission to make a patch out of his graphic. As long as there is a sizable patch collecting contingent of the Timbers Army,  Bule Sigi will live on in the aisles and stands of Providence Park.
The idea went down very well with a small subgroup of patch collectors. However, some didn't know what the reference was, and many thought it was no longer topical, and they were right. It wasn't topical anymore, but that's exactly why I made them, to make sure it would be remembered. Patches were sold at cost. 200 were made, 140 were sold, and the rest were given away, with a chunk going to the creator. Purists might notice that I added an apostrophe and dropped "I'm in need of a pie." Well, you're right. I did. I liked the form factor better and it allowed me to keep it smaller to reduce costs.
There are… no more left. It wasn't a runaway success, but there are 200 out there in the wild. I might shed a tear of joy the first time I see one on the back of a vest. Years from now, it will an even more obscure reference, but it might spark a little interest by a new Timbers fan who will dig around for the origin story.